For us, coffee is a noble beverage. We love its multifaceted taste and its colorful aroma. We appreciate our coffee and share our passion for coffee enjoyment with our customers, guests and partners.
In our opinion, coffee should not be drunk only as a primitive morning coffee. On the contrary, we think that coffee can be enjoyed almost at any time of the day.
We simply enjoy the pleasure of coffee. With it, we can look forward to relaxing times. It tastes good, does us good and warms our hands. The hot drink with extra effect.
In our society, coffee is already part of the standard. Whether at home, in the office or on the road. A cup of the favorite beverage always goes. It also goes particularly well with food. As an accompaniment to a round of coffee and cake, as an ingredient in a pastry or sweet, and sometimes in an espresso martini cocktail.
Coffee beans have many uses and find many applications in our daily lives. In some cases, the spent coffee grounds can also be used as plant fertilizer.
More than just a morning ritual
Drinking coffee is fun, has a positive effect and additionally drives away sorrow and worries - or rather the time. It is a ritual with which one likes to spend time. It's the daily rewards we treat ourselves to after hard work - and coffee is one of them.
Heartwarming Specialty Coffee
For many, it's a morning routine. As a wake-up and time-killer, but best of all as a time-for-yourself moment in the morning. In modern times, you get your hot beverage from your capsule machine at the touch of a button. It's the easiest to use and clean, but also more expensive and less friendly to the environment if you source the capsules.
Another popular candidate is the coffee machine. Here, too, various coffee specialties can be made, including milk foam. 
For enthusiasts, there is also the portafilter machine with milk frother. Here you have complete control when making coffee. For many, however, a cozy capsule machine with a shot of milk and sugar is enough.
Black coffee sounds almost boring, but anyone who drinks specialty coffee knows that this is not the case. Fresh specialty coffee is an insider tip for many who would like to do without sugar and milk when enjoying their coffee.
When and how we enjoy our coffee? Mostly at work. From a pot of filter coffee, from the canteen with a fully automatic coffee machine or in the office kitchen from a capsule machine. For many, going to the coffee cup is an experience.
A mini break, a little gossip with colleagues or just pure relaxation. Making coffee with or without sugar can sometimes be so relaxing.
For us professional coffee masters, frothing the milk and smelling the freshly ground coffee is a great experience! At the same time we like to talk with employees and exchange ideas about social life.
The icing on the cake, however, is the first sip from our freshly made cappuccino with extra latte art! After all, the eye also drinks.
The way to coffee is therefore a special one: pure relaxation.
Bittersweet coffee enjoyment with Specialty Coffee
Bittersweet in the positive sense. Specialty coffee is the coffee composed by the roast master himself, which was roasted according to recipe. Typical for him is the precisely adjusted roasting temperatures and the composition of the individual coffee beans. 
Specialty coffee has significantly more aroma levels than, for example, a conventional supermarket coffee due to the long and gentle roasting process. There is always at least one extra note present, which usually then serves as the namesake of the coffee variety. This particularly high-quality coffee can and should be tried without milk and sugar for the time being. In most cases, one also wants to do without both additives completely.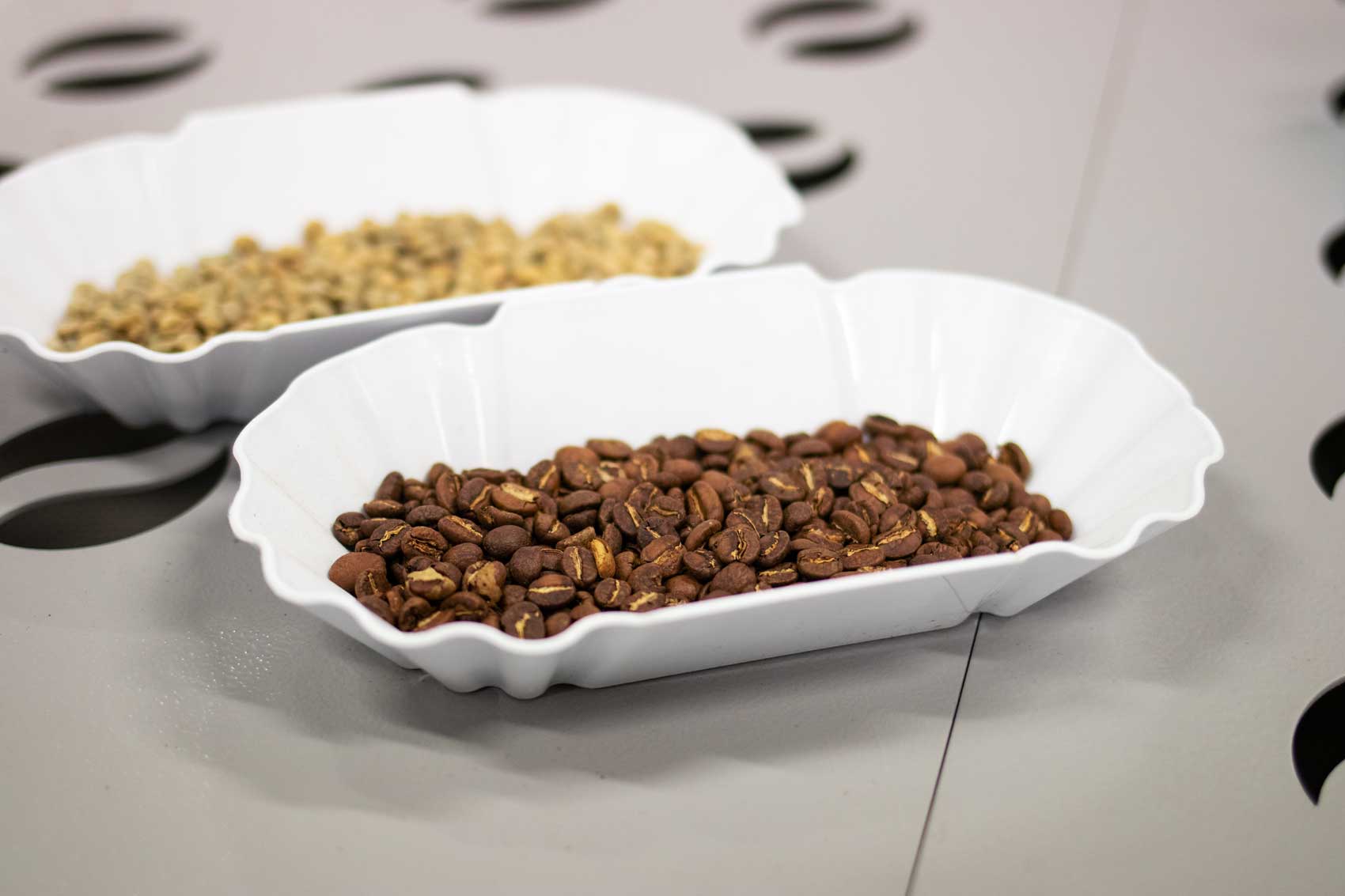 Specialty coffee samples
Therefore, due to the intense time commitment and the infinite possibility of potential flavors, only a limited daily amount can be produced.
Otherwise, the flavors will be discolored in a mess and the distinctive coffee taste would be lost.
A good coffee from Reeham
Reeham Coffee stands for extremely high-quality coffee enjoyment. We are always looking for a suitable recipe for both our customers and our portfolio. 
With us, the guest can always enjoy his favorite coffee without worries. In every Reeham coffee cup there is a promise. A simply good coffee. No more and no less.
We also know about the good coffee school and want to bring the higher quality coffee culture to the outside world. Coffee is our first priority, along with our customers and guests. With it we start our productive day.
It is a constant companion in our everyday life and we are convinced that a good coffee should always be at hand. With friends and families. With colleagues and acquaintances.
You can quickly spice up a boring coffee with sugar and milk. However, this also has a relatively modest effect in the long run. We all know the coffee shop with the green logo and its fancy coffee specialties. Sometimes with cinnamon, sometimes with caramel and sometimes with some special spice mixture. All in its own way delicious and exciting coffee enjoyment.
With regular coffee or cappuccino, however, it quickly becomes clear that the coffee is only used as a base and not as the main ingredient.
As specialty roasters, we are not averse to the trends and also find pleasure in the sweet drinks. However, we like the aroma coming from the coffee bean all the more.
Specialty coffee is usually enjoyed straight, with milk and sugar. At the most, caramel syrup. And that's what we stand for. To enhance the experience, we recommend enjoying Specialty Coffee with a piece of cake. Even better with family and friends.